Is Athens an easy place to run? Not always.
Is it an interesting place to run? Absolutely!
Let's be frank straight off the blocks: Athens is not the simplest city for a leisurely jog—but running in the Greek capital is much easier than reputation would have it. Traffic is lighter than it used to be, pollution is no longer a problem, new walkways have sprung up and it (almost) never rains.
Granted, drivers can be impatient at stop signs and the occasional pothole remains (though plans are afoot to repave half the city's roads within the next few years), but Athens is much more runner-friendly nowadays, and the increasing number of Athenians lacing up regularly is proof.
Now, shall we tell you the best parts about running in Athens.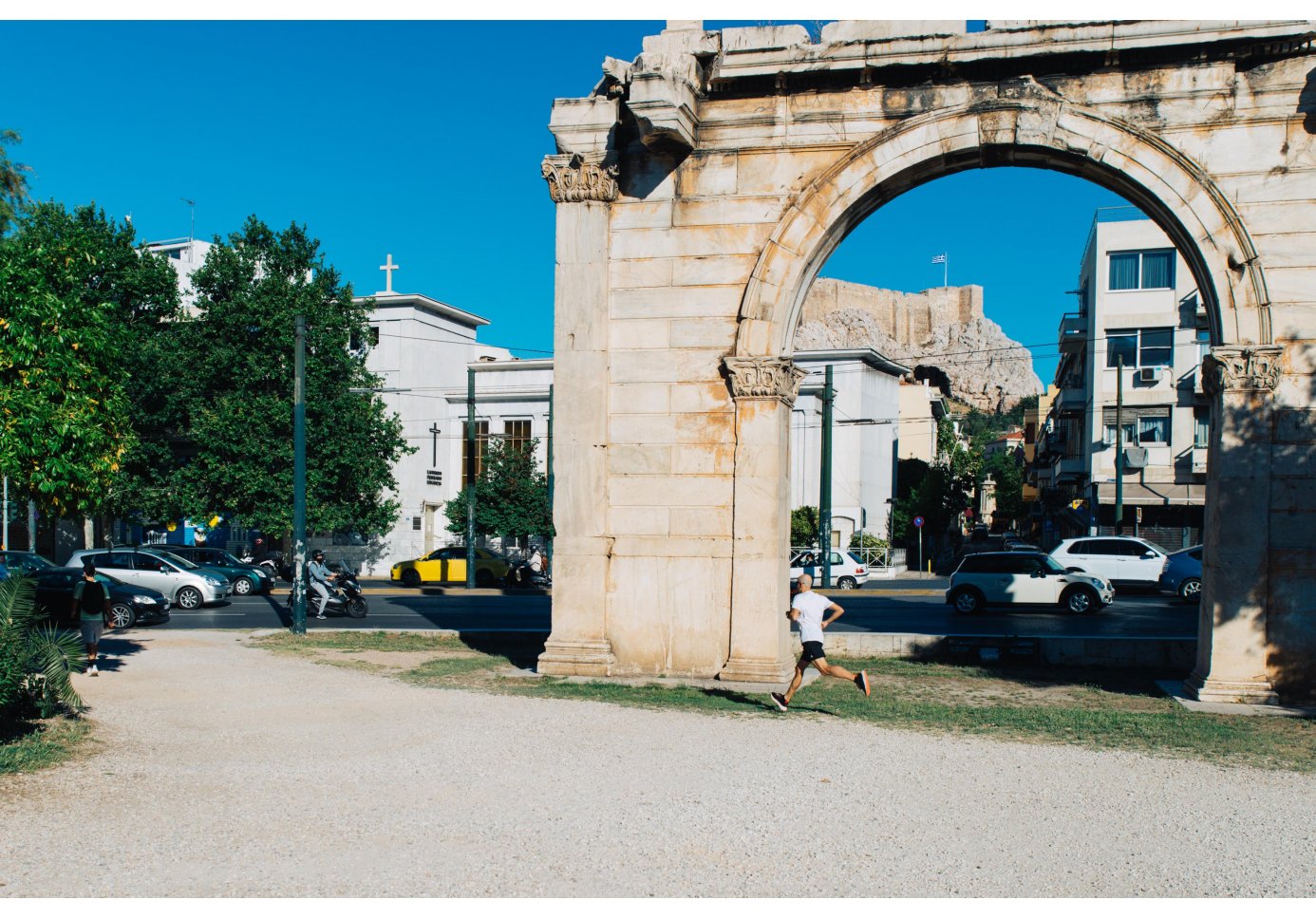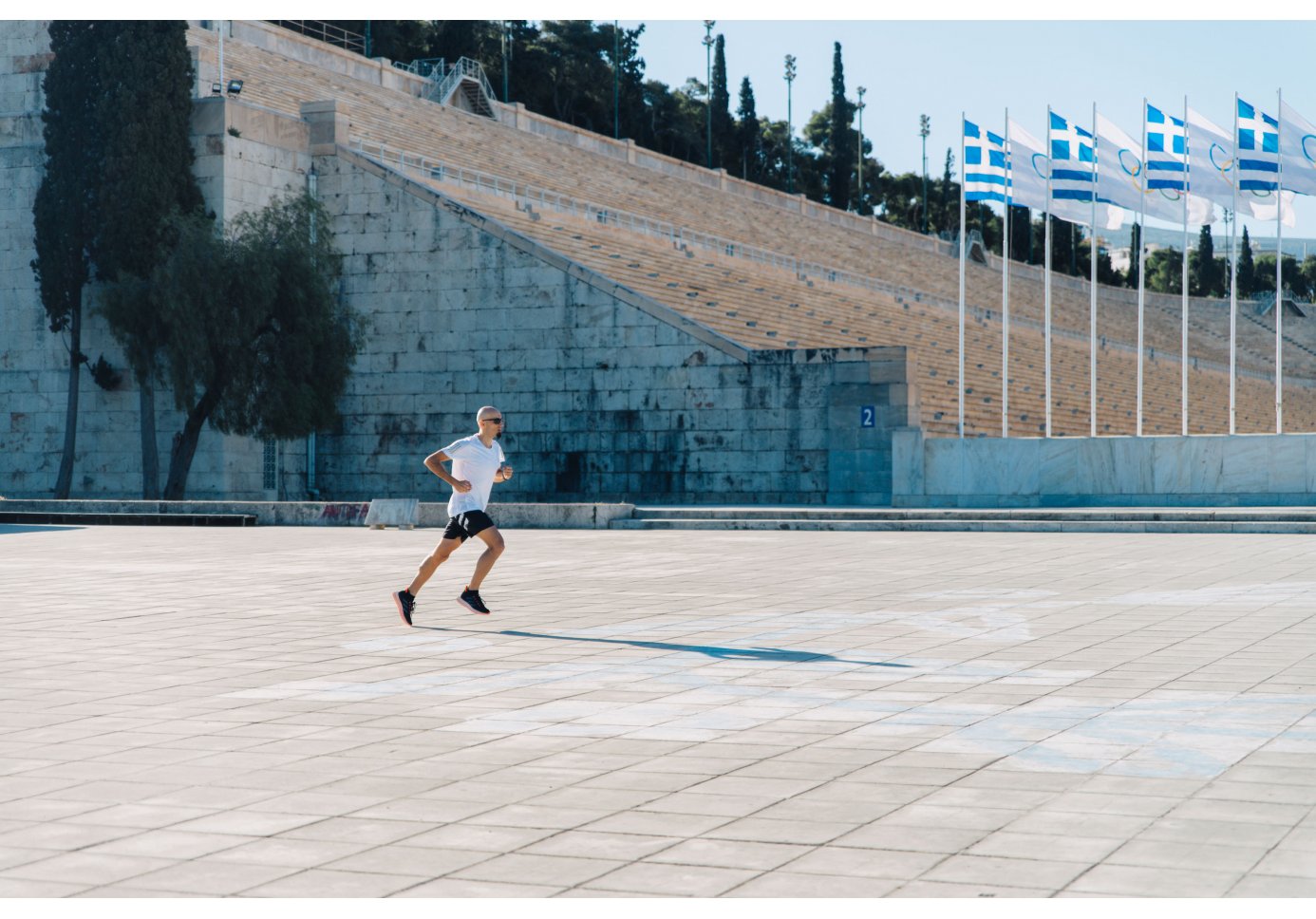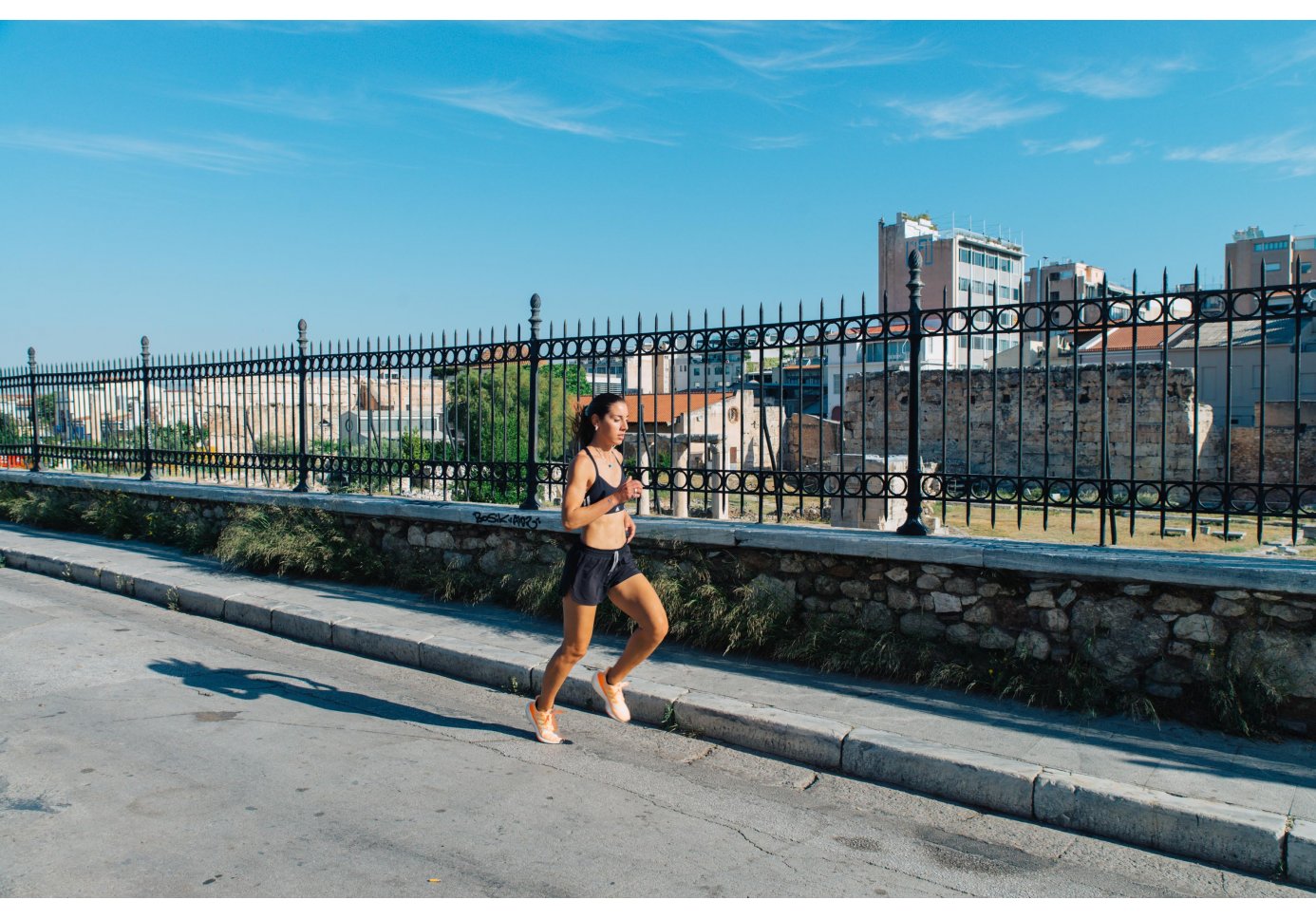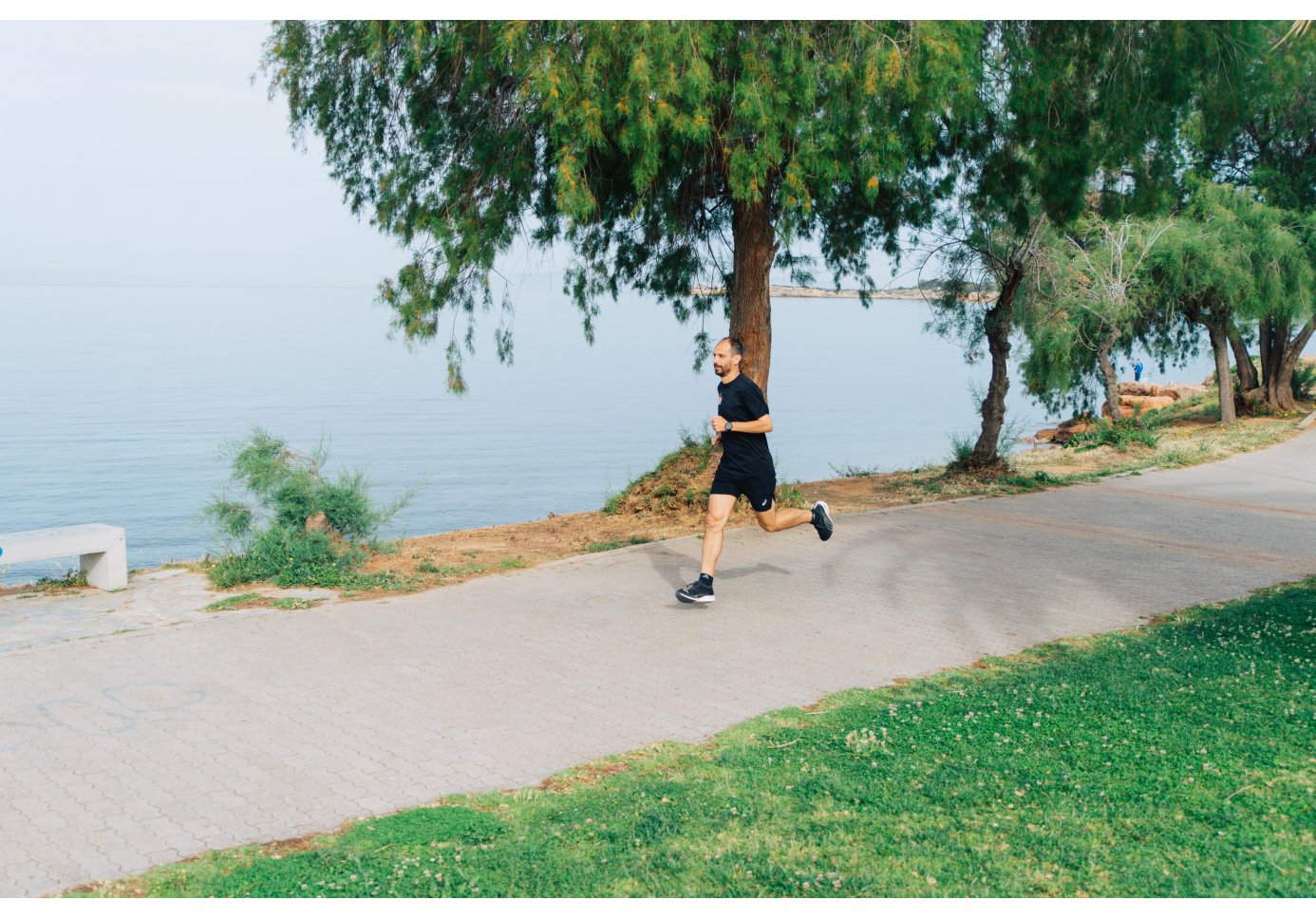 Ready? Let's go!
With the help of two former professional athletes, we've plotted two very special routes for first-time Athens runners. Both courses—5km and 10km respectively—will give you a great initiation into the pleasures of the Athenian jog. The shorter city route comprises major sights (historical and modern); while our second route will take you along the glamorous Athens Riviera coastline, with the Aegean breeze nipping at your heels.
The 5K Ultimate Athens Route
Our first route was mapped with the help of Grigoris Skoularikis, publisher of Running News, and captain of the Adidas Runners Athens' running squad.
Let's start on the pedestrian paved road in front of the Acropolis Museum. Dionysiou Areopagitou, as the walkway is called, is one of Europe's most beautiful avenues, and meanders halfway around the Acropolis Hill.
For the first few hundred metres, run towards Philopappou Hill, with the Acropolis towering above you, on your right. After about half a kilometre, the road will begin to crest downhill towards the attractive Thissio neighbourhood. In full tourist season, this popular pocket can be hot and crowded. If so, head for pine clad Philopappou instead.
Otherwise, follow our route at a leisurely pace. At about 1 kilometre from your starting point, you will come across Cine Thission, a landmark open-air cinema on your left. In summer, the first screening starts around 9pm, as twilight settles in. If you're on an evening run, see if you can catch a glimpse of what's screening!
After another few hundred metres, you'll reach the old Thissio train station from where you can make out the Temple of Hephaestus (we locals call it Theseus) amid the trees on your right. It's time to turn right onto Adrianou Street and weave your way into historic Monastiraki, with its tourist shops, antique flea markets, souvlaki joints and agreeable hustle and bustle.
Continue up Areos Street, then turn left into Dexippou Street, left again into Adrianou and into Aiolou Street, first weaving around lower Plaka, and then moving uptown towards Syntagma Square.
At the 2.5 kilometre halfway point, you'll turn right into the busy pedestrian artery of Ermou Street and run uphill past the big international and Greek stores until you reach Syntagma Square.
Cross Syntagma Square and turn left at the Hellenic Parliament which dominates the square. Run up Vasilissis Sofias Avenue, with the National Garden on your right. 
It is quite probable that you will encounter the Evzones, the national guard in traditional military dress, who march from the presidential palace at regular intervals.
Don't worry if you miss them: At kilometre 3.6, turn right into Irodou Attikou Street and run downhill: along the way, you will pass the Evzones' boxes where they stand guard. You'll also see the Maximos Mansion, seat of the prime minister, and the Presidential Palace. Be sure to keep the National Garden on your right always.
If it is a hot day, cut right into the garden and seek out its cool paths. Otherwise, at the bottom of Irodou Attikou, you will experience the exact same view that marathon runners witness on their final stretch: The pearly white marble Panathenaic stadium opening up in front of you, across Vasilissis Sofias Avenue. There's no need to cross into the stadium at this point, as it is not open for running (though you can visit it later on foot).
We suggest you continue running around the Zappeion cluster to clock some more city landmarks: you'll whip past the Fokianos vintage gymnasium, the Zappeion Hall, and the Ethnikos Tennis Club as you move along the newly pedestrianized Vasilissis Olgas Avenue, back towards the Acropolis.
At 5 kilometres from your start, you will reach the Temple of Olympian Zeus and the Gates of Hadrian, the most philhellene of Roman emperors. Across the street, Dionysiou Areopagitou beckons, and a couple of hundred metres further along, the Acropolis museum, where you began.
The 10K Athens Riviera Route
Our second scenic route was plotted with the help of Nikos Polias, Athens Marathon record holder, and 7 times Marathon winner—a true running legend—and now publisher of Runner magazine. This is one of his favourite running courses, along the Athens coastline.
We'll begin at the Agios Kosmas National Sports Complex (accessible by bus and tram) and end up all the way down at Kavouri beach, where you can enjoy a post-run swim. The route is flat, with the dazzling sea on your right, and although there is coastal car traffic at any time of the year, the wide pavements will keep it at a safe distance (with the tram tracks as an extra buffer). This 10K coastal route is well suited for higher tempo runs as well as relaxed jogging.
From Agios Kosmas (you can do some stretching/warmup exercises in the sports park beforehand), we will run towards the old Athens International Airport site at Hellinikon. On your left, you will see the enormous empty expanse of the old airport which has been closed for almost two decades – though a huge development scheme is in the works to create new real estate developments and public parks on the land. Run past Hellinikon on your left with the seafront go-kart track on your right.
Midway from your starting point, you will get to the coastal hub of Glyfada, Athens' answer to Los Angeles, full of fashion boutiques, gelaterias and smiling youths with or without skateboards. At this point, if you haven't arranged to be picked up at the end of our course, or if you have forgotten your taxi fare, you can make a U-turn and run back to the start.
Otherwise, keep going with the sea on your right. A few hundred metres further down, as you approach Voula, the next seaside suburb along, you will enter full Athens Riviera territory, peppered by palm trees, glamorous houses and a run of lovely sandy beaches. Kiosks will be sparser at this point so make sure you have some water with you.
When you hit your 10km mark soon afterwards at Kavouri, you will have a choice of bigger and better beaches to swim. You can choose from the high-rollers Astir beach (paid entry), once the summer playground of Jackie Onassis, the family-friendly Vouliagmeni beach (a modest entry fee), or the long free stretch of Kavouri beach where they've recently created a pedestrian pathway along the Iliou seafront road of Mikro Kavouri for walkers and runners. 
At the far end of Kavouri—known as the main Kavouri beach—you can swim out to some cool stone ruins or visit idyllic coves nearby, such as Krabo and Zen Beach, where you'll feel like you've landed on a Greek island. You can cap off your coastal run with a coffee, icy beer or ouzo—or even a full flight Greek meal by the sea—at any of these great spots before you head back to the city.
Nikos recommends you set out on this 10K coastal run early in the morning, when there is not so much traffic, the wind is usually light, the sea is calm and the summer sun hasn't gone into blitz mode. The coastal route is also lovely at sunset, with the colours changing over the water.