15/11/2022
The future is self-guided, and Clio Muse Tours has long known it
On October 8, Clio Muse Tours turned 8, yet on our birthday, Yiannis Nikolopoulos (co-founder & CEO) and Daphne Tsevreni (co-founder & CRO) were on their way to Las Vegas for another great and constructive event by Arival. With an agenda booked with more than 35 meetings, Yiannis and Daphne were prepared for three-and-a-half jam-packed days of learning and collaborating. And so they did. From October 10 to 13, the co-founders of Clio Muse Tours met with existing partners such as TUI Musement, Headout, and GetYourGuide and examined how they could optimize and grow our collaboration through new models of distribution, including on-site and offline sales. New partnerships and custom-made solutions were also discussed with local tour operators, mainly from Spain, Portugal, Italy & Egypt, who seek an extra hassle-free revenue stream, adding self-guided audio tours to their portfolio. 
With most of the people who met at Arival Las Vegas, the co-founders of Clio Muse Tours met and talked again a few weeks later during the Tourism Innovation Summit 2022 in Seville from November 2 to 4. This year, though, we not only joined the summit but also enriched the dialogue on self-guided tours; On November 3, Daphne participated in "The Future is Self-Guided" panel discussion, hosted by Arival and moderated by Douglas Quinby, illustrating how self-guided tours can complement existing tours and itineraries.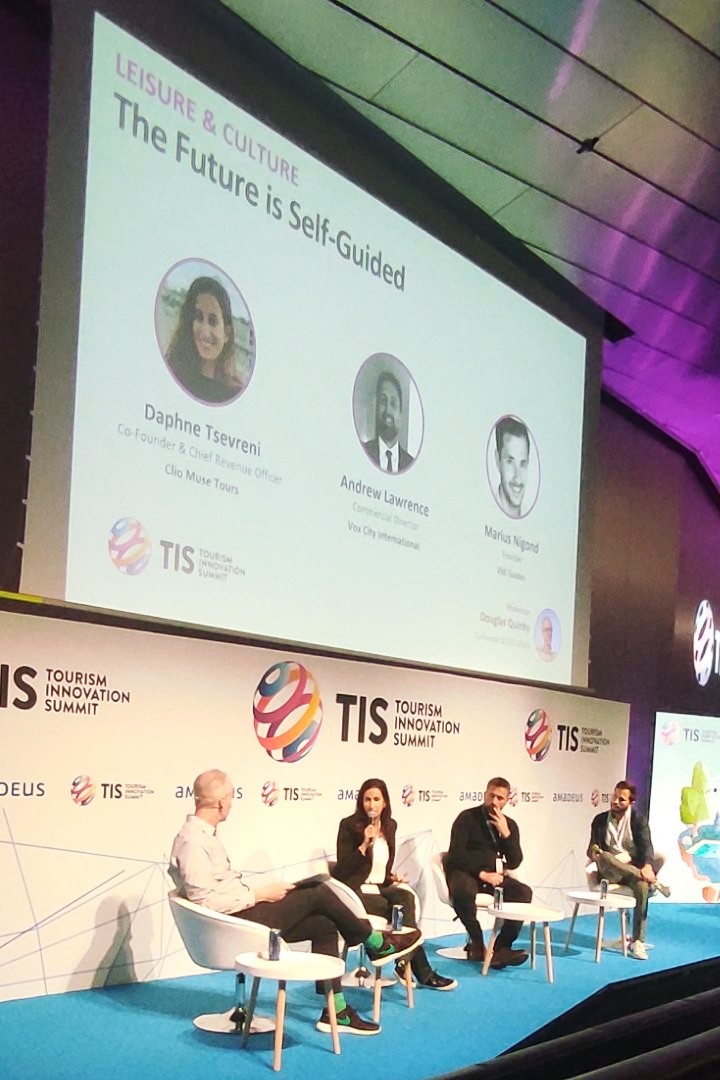 Three days after our adiόs to TIS Seville, it was London calling. In the context of the World Travel Market 2022, we had the chance to share the booth with five flourishing Greek startups from Greece with CapsuleT Travel & Hospitality Accelerator of the Hellenic Chamber of Ηotels at the (brand-new and imposing) pavilion of the Greek National Tourism Organisation. During WTM, Yiannis and Daphne met and explored the potential of tailor-made and scalable solutions with 10 new tour operators among the 55 meetings they held.  
Next stop: Fitur Madrid!